Experience, Techniques,
Know-hows… All for the clients

Thank you very much for showing your interest in our service.
We, KINPODO has been making various package containers for the purpose of use for more than 100 years.
Our made-to-order packages with skillful techniques and experience have good reputations from all the clients, and will absolutely meet your requirements. Please feel free to contact us.
KINPODO Networks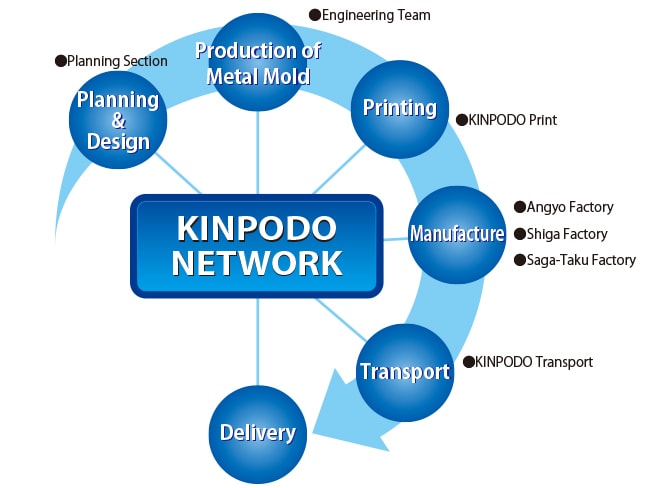 For domestic transactions, KINPODO performs all the manufacturing procedures in our group companies including creating design, metal-printing, and delivery, which enable us to avoid waste, and supply high-quality products to the clients.
We keep the confidentiality of the products, and improve the precision and efficiency of made-to-order tin manufacturing throughout this network.
KINPODO's showroom
KINPODO's showroom

Large variety of tins are on display by forms at our showroom in Tokyo head office.
Please come and see our showroom for your reference.
Our designers will support your artwork as well.

* Our showroom is available for business only. Please contact our sales department in advance.

Reuse

Various examples of tin reuse called 'Secondary use' can be seen in this section. The ideas from general consumers, which won a prize at 'Tin's reuse & Idea Contest' organized by us, are also displayed here.
If you consider using a tin container for your product, it is quite effective to focus on tin's superior reusability.

History Section

Old hand-made tins can be learnt with the timeline table in this section.
You will see tins excellence from the aspect of the past.

Materials / Procedures / Printing

Manufacturing procedures can be seen in this section. We offer you a knowledge of tin manufacturing such as wooden models, styrene foam models, and kinds of tins.
Examples of emboss or special printing are also shown here.

Overseas Collection

Invaluable Tins from all over the world are brought to this section.
Please make use of these overseas collections for new moulds.